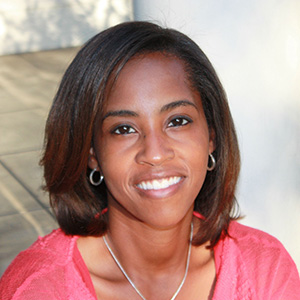 How did I go from being an attorney to helping people level-up any area of their lives—work, career, business, goals, etc.?
It all began with a gnawing feeling that caused my husband, Robb, and I to consider taking the biggest risk of our lives…a risk I wasn't so sure I could actually take.
Robb, this is crazy. Are we really going to take a leap of faith and quit our jobs? We've got bills, a mortgage, kids responsibilities...

We've spent the last decade building our careers. We've finally paid off our law school loans. We're supposed to be lawyers forever!

We can't give up the stability of our jobs because of some silly feeling that maybe there's "something more" we're meant to do. Who does that?
This is too risky. We're too old to just take a leap of faith and go for it. Right? Sure we really want to do "something more." I can't quit. I'm not ready.
Two weeks after that conversation,
I went on a business trip.
I walked into my hotel room. There was a BIG sign on the wall. I couldn't believe what it said…
LIFE IS ABOUT CREATING YOURSELF.
It was unbelievable that this quote would be in my hotel room. That's why I took a picture with my cell phone. Even to this day, I love looking at this picture because it's a perfect reminder of when everything changed.
I had been feeling so unsettled for years, wanting to leave my job, and there I was, in a random hotel room, with a sign staring me in the face telling me exactly what I needed to hear. It was urging me to take action!
Of course, my inner skeptic began to question if this really was a sign.
Is this really a message for me? 
Sure we get signs that point us in the right direction, but maybe this is just a coincidence.
I can't quit my job because of a sign in my hotel room! That's crazy.
Life isaboutcreatingyourself
Despite all the questions running through my mind, it was at that exact moment when I felt things shift.
All the doubts took a backseat in my mind. 
That sign finally gave me a moment of clarity and confirmed what I had been feeling for so long. The feeling—and knowing—was palpable. 
You are allowed to go for what feels right and the dreams in your heart…even if it feels risky, or scary.
It's not irresponsible. It's not too late. Life is about creating yourself.
Since you're also seeing this sign now, it's your sign too.
3 important truths about life settled into my mind after seeing the sign that day. I'll share them with you because these are not just my truths—they apply to all of us.
You're not crazy if you feel like something is missing in your life. There really is "Something More."
You never have to settle for the status quo or staying stuck on the "hamster wheel".
The dreams and goals you have for your life exist for a reason. There's a path to reach them.
After that business trip, I went back home.
Robb and I both quit our jobs..on the same day at the same time. 
Robb followed his dream, started from the bottom worked his way up,  UpSpiraled and built his new career. Today he writes for the ABC show Blackish.
I created the Possibility of Today and built Ripple, a social good agency that works with mission-driven companies. 
One of the biggest passions in my life is working with Sounds True, a multimedia publisher, with a mission to "Wake up the World" that features the leading spiritual teachers and visionaries in the world.
I also spend time here, as the Founder and main writer at The Possibility of Today, helping people UpSpiral and level up their lives.
If you still want to know more...here's the bio stuff
Like many people, Sibyl Chavis worked overtime to create the 'good life.' She earned her Bachelors of Science degree from the University of Michigan and Juris Doctorate degree from Harvard Law School. Following law school, Sibyl began her career practicing law at a leading law firm in Atlanta, Georgia. From there, she became an Executive Vice President at one of the top multicultural advertising agencies, where she played a key role in helping grow the company, with billing and personnel tripling over the course of her tenure.
Sibyl left the lucrative corporate world on the East Coast to create a life of greater clarity and purpose. In 2011, she launched The Possibility of Today. What began as a blog, turned into a lifestyle media brand with hundreds of thousands of fans engaging with Sibyl on webinars, social media platforms and her podcast.
In 2015, Sibyl launched Ripple Agency. Ripple partners with mission-driven companies to create social good programs that help people transform and lead better lives. One of Sibyl's biggest passions in life is her work with Sounds True, a multimedia publishing company, that works with some of the leading spiritual teachers and visionaries of our time.